Welcome to HyperThink Studios
Some people are afraid of technology, others are addicted to it. We are afraid we may be addicted. A wise man said, "Determine what you love to do and find out a way to get paid for it."
Please take time to view our portfolio and what our clients have to say about us. After all they were happy enough to pay us for what we did and without them and hopefully you we would just be doing what we love, and that doesn't feed our families.





What Our Clients Say

The measure of success is simple. Make your customers happy. Our goal is to be successful. Find out if we are.



Get Inside Our Head

Visit our blog to find out what we think about the web, trends, marketing and other general ramblings.



Recent News

9.4.10
The last 30 days has seen two more ESPN sites converted to the new Content Management System; PuertoRicoTipOff.com and CharlestonClassic.com
_______________________

7.30.10
The new OldSpiceClassic.com site is launched. 2 Down 6 to go.
_______________________

6.20.10
HyperThink launches new 76Classic.com marking the first of 8 existing sites to be converted to new fully integrated CMS.
_______________________

5.1.10
HyperThink extends contract with ESPN. New contract to continue web development and interactive production through 2011
_______________________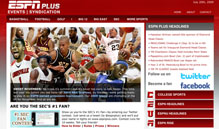 The new design and layout of ESPNplus.com has been launched. Make sure you check it out HERE.

HyperThink introduces improved Content Management System (CMS) options. Add it to your existing site or to a new site and gain control of your web content.
Learn more HERE >>